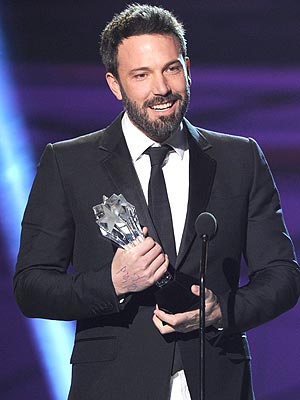 Ben Affleck won and also was able to make a joke.
Hours after Affleck was snubbed by the Oscars, which did not give him a Best Director nomination for his film Argo, he won in the same category at Thursday night's 18th Annual Critics Choice Movie Awards in Santa Monica.
"I'd like to thank the Academy," joked Affleck, while on stage to collect his award. "I'm kidding, I'm kidding! This is the one that counts."
Affleck's victory was greeted by thunderous applause and a standing ovation from the crowd.
As for the rest of the winners…
BEST PICTURE
Argo
BEST ACTOR
Daniel Day-Lewis – "Lincoln"
BEST ACTRESS
Jessica Chastain – "Zero Dark Thirty"
BEST SUPPORTING ACTOR
Philip Seymour Hoffman – "The Master"
BEST SUPPORTING ACTRESS
Anne Hathaway – "Les Misérables"
BEST YOUNG ACTOR/ACTRESS
Quvenzhané Wallis – "Beasts of the Southern Wild"
BEST ACTING ENSEMBLE
Silver Linings Playbook
BEST DIRECTOR
Ben Affleck – "Argo"
BEST ORIGINAL SCREENPLAY
Quentin Tarantino – "Django Unchained"
BEST ADAPTED SCREENPLAY
Tony Kushner – "Lincoln"
BEST CINEMATOGRAPHY
Life of PI
BEST ART DIRECTION
Anna Karenina
BEST EDITING
Zero Dark Thirty
BEST COSTUME DESIGN
Anna Karenina
BEST MAKEUP
Cloud Atlas
BEST VISUAL EFFECTS
Life of Pi
BEST ANIMATED FEATURE
Wreck-It Ralph
BEST ACTION MOVIE
Skyfall
BEST ACTOR IN AN ACTION MOVIE
Daniel Craig – "Skyfall"
BEST ACTRESS IN AN ACTION MOVIE
Jennifer Lawrence – "The Hunger Games"
BEST COMEDY
Silver Linings Playbook
BEST ACTOR IN A COMEDY
Bradley Cooper — "Silver Linings Playbook"
BEST ACTRESS IN A COMEDY
Jennifer Lawrence — "Silver Linings Playbook"
BEST SCI-FI/HORROR MOVIE
Looper
BEST FOREIGN LANGUAGE FILM
Amour
BEST DOCUMENTARY FEATURE
Searching For Sugar Man
BEST SONG
"Skyfall" (Skyfall)