If you are an animal lover, or just someone with a kind heart (and I hope you are both), then the documentary entitled Blackfish is for you.
Blackfish tells the story of Tilikum, a notoriously aggressive Orca (AKA a killer whale) who is responsible for the deaths of three whale trainers while in captivity. Captivity is the key word here. Throughout the documentary we learn that these gorgeous creatures don't normally kill and are rarely aggressive while swimming freely across the Pacific Ocean.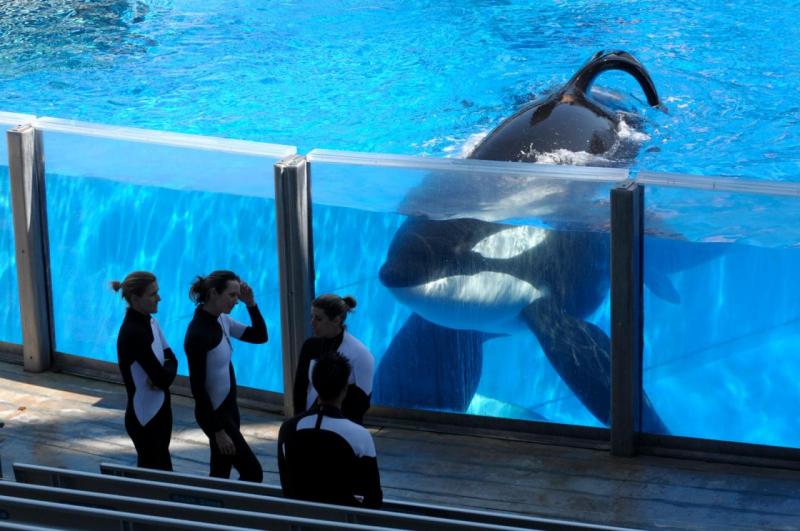 So what makes some of them, like Tilikum, become violent? Imagine being free to swim 100 miles a day and then suddenly captured and forced to perform "tricks" in a tank for more than 20 years.
The director of Blackfish, Gabriela Cowperthwaite, uses shocking footage of their capture and imprisonment that really strikes a cord with the audience. Some scenes will stay with you for days. She also uses some emotional interviews from former SeaWorld trainers to try to understand the mind of an Orca. The film presents a very convincing case against keeping these wild animals in prison for our own entertainment.
All signs of blame point directly at SeaWorld. From the heartless way they separate the babies from their mothers, to the improper training of their staff, and worst of all their cover-up when there is literally blood in the water… it is beyond reprehensible.
I wish we had heard from the other side in this sad story, but execs from SeaWorld refused to cooperate with the filmmakers. It's a shame because it is the only thing missing from a fine exposé.
I was never a fan of SeaWorld, or going to the circus or the zoo. After seeing Blackfish I am calling these places for what they really are… animal prisons. I expect Blackfish to be one of the five nominated films for Best Documentary.
I give BLACKFISH ***1/2 out of ****.